Garbage Bin & Storage Bin Rentals
Regina, we can rent 

Garbage Bins / Dumpsters

 for you to 
self load your garbage

.
Our containers are 
open

 at the top with ground-level door at the back that provide easy walk-in access.
Robust, clean, convenient

 and ready to work.
We also have 

mobile storage units

 to store your belongings when doing 
renovations

. They can be left at your place or stored in our security gated compound in Regina.
GARBAGE, WASTE & RECYCLING BIN RENTALS REGINA
D&P Disposal & Storage of Regina was founded on the concept of offering the best practices and procedures associated with garbage removal services in Regina to accommodate customers current needs.
Our company currently has 10, 14 and 20 yard bins available and a unique trailer system to transport waste to the Regina landfill facility or other landfills.
RESIDENTIAL STORAGE & DUMPSTER RENTALS
COMMERCIAL STORAGE & DUMPSTER RENTALS
We also provide daily, weekly, or monthly rentals of our garbage bins or storage units. We can also set up scheduled pick-ups to dump and return your garbage bins as well as separate bins for your recyclable materials.
Own a Roofing or Construction business in Regina? D&P Disposal can help your Regina business. Hire us to bring you garbage/waste bins for roofing material or storage bins for easier renovations but moving appliances and furniture out of the way.
Garbage & Storage Rentals Regina
SIMPLE • CONVENIENT • GREAT PRICES
Regina, give us a call and we can help you get rid of your garbage and waste in an environmentally–friendly way.
There are some materials that do not have a charge to be disposed at the Regina Landfill.
Items such as clean concrete, clean asphalt or clean fill dirt.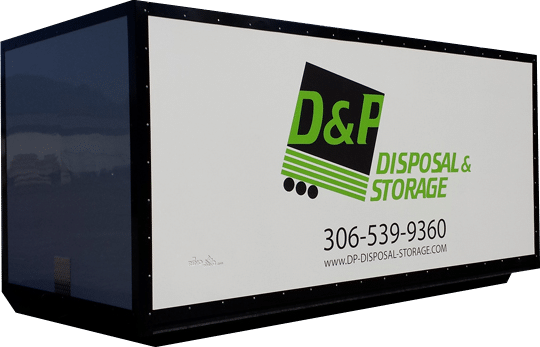 REGINA STORAGE PUPS.
GARBAGE, WASTE & RECYCLING BIN RENTALS REGINA.
Regina, if you have junk in your garage, basement, yard, home or business, and want to get rid of it, we can help. D&P Disposal & Storage provides a consistently high level of courteous service at fair and reasonable prices. Getting rid of that nagging pile of unsightly junk and garbage can be a simple phone call away.
D&P Disposal & Storage can deliver one of our 3 different sized garbage bins for you to get rid of your garbage and yard waste. Give us a call at 306-539-9360.
Whether you need a garbage bin to clean out your home or garage, tear off an old roof, or remodel your kitchen, D&P Disposal & Storage can help.
"D & P Disposal & Storage, provide prompt, excellent service. They have all sizes of bins and will accommodate your needs. Removal and replacement of bins is done at your request, service is always courteous and friendly.
The prices are reasonable and competitive. If you are looking for quick and reliable disposal bin service call D&P Disposal & Storage"
RICK ANDERSON
"Our company has been using D&P Disposal & Storage for quite some time now and they have always been fantastic. Every level of service is prompt and committed. We have several different sites requiring service and Don is always happy to accommodate us. We are so pleased we chose D&P Disposal for our waste removal needs."
STEVE FOLK
Folk Constructions Regina
"Great product and service! I rented a storage container to store all of the stuff from my garage. I need to put in a dry sump pit and paint the floor. Don dropped the storage container in my driveway and that was it. I moved all my stuff into it, locked it up and I could work in the garage without having to constantly move stuff around.
Well worth it. Made my life easier."
DAN AEBIG
Regina
WHERE TO RENT GARBAGE BINS REGINA.
D&P Disposal & Storage wants to work directly with you.
D&P Disposal & Storage will provide you with the most effective and cost-efficient waste collection and disposal solution possible.
Give us call 

306-539-9360
Get a FREE Quote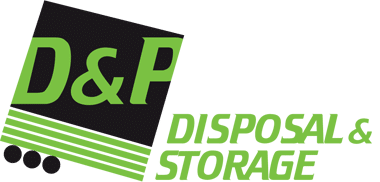 D&P Disposal & Storage is Regina-owned and operated. The rental business provides garbage bin rentals and mobile storage unit/pup rentals. Our business was established in 2013.
Since then we have been providing courteous professional affordable rental services to the residents and businesses of Regina and the surrounding area.
Regina Garbage Bin & Storage Pup/Container Rentals